/
/
The Adventurous Life of Isabel Anderson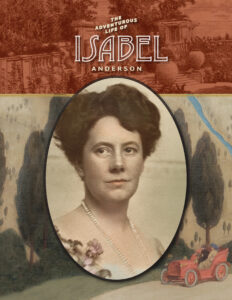 Philanthropist. War nurse. Political commentator. World traveler. Patriot. Author. Arts patron. Isabel Anderson filled her life—spanning the centennial of the American Revolution and World War II—with pursuits that both fulfilled and challenged the expectations for a woman of her generation. She valued history and tradition, but refused to follow what she considered outdated customs. She embraced the duties of a society wife and hostess, but sought more meaningful work outside the home. And while she maintained that women's suffrage was not necessary, she supported other Progressive causes, including public health and prison reform.
Isabel Anderson's story and personality have remained hidden behind the glamour of her roles as a wealthy heiress and society wife. She was an important philanthropist, giving to churches, hospitals, universities, and museums. She was active in humanitarian causes, including World War I relief and education for the poor. She followed national politics and participated in political life, even before women could vote. She traveled the world, exploring majestic, exotic, and rugged destinations on five continents. And she wrote more than forty books, delighting children with fantastical tales and adults with accounts of her many adventures.
A defining moment in her life came in the spring of 1937, when her beloved husband, Larz, died. In the months that followed, Isabel Anderson made arrangements to donate her Washington mansion, Anderson House, to the Society of the Cincinnati to become its headquarters and museum. Larz Anderson was a dedicated member of the Society, and their Washington home was adorned with symbols of their patriotism and devotion to the Society's principles. When the gift was finalized in May 1938, the Society's leaders declared it to be the most important event in the history of the organization since George Washington signed its founding document in 1783. Isabel Anderson remains one of the Society's most significant benefactors. Her donation of Anderson House spurred the Society's growth as a public institution and gave the organization a prominent home in the nation's capital.
This exhibition featured nearly fifty paintings, photographs, documents, and other artifacts that illuminate the full life of Isabel Anderson. Highlights include portraits depicting Isabel Anderson from the age of nineteen to forty-nine, her wedding gown made by the venerable House of Worth in Paris in 1897, the scrapbook she kept of her participation in the 1912 presidential campaign and Republican National Convention, medals and mementoes documenting her service with the American Red Cross in Western Europe during World War I, and selections of the books she wrote.